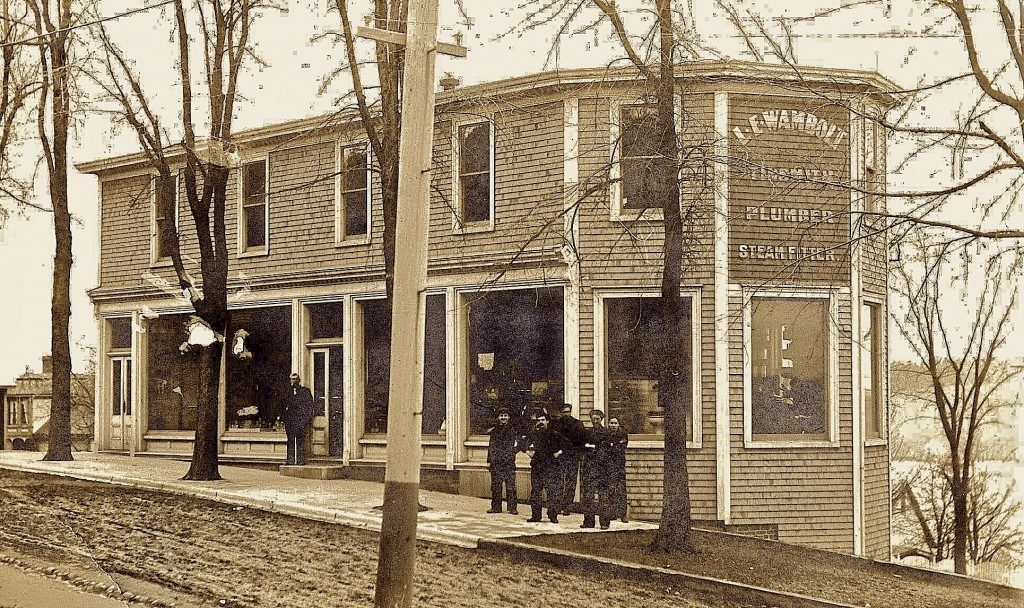 L.E. WAMBOLT BUILDING
112 Lincoln Street – First Floor
Lunenburg, NS B0J 2C0
Beautiful Retail Space Available NOW
FEATURES
(1,950 square feet!)

Optional Loading-bay
Hardwood floors.
Beautiful original details including tin ceilings with hardwood floors.
Multiple windows with huge amounts of natural light.
"Can't-Miss" retail area.
Two private washrooms.
Located at the very entrance of the UNESCO World Heritage District.
Unsurpassed visibility from the street.
RENT:
This does not include the approximate 600 square foot ground floor loading-dock area.  It has electronic baseboard heat. If the tenant were to make any size-able capital improvements (i.e. RESTAURANT), a rent-in-lieu agreement might be possible.
In addition, the basement area can be included at an additional cost for distribution or storage since there is an internal staircase connecting the two areas.
More info: lunenburg@ElevenElevenCos.com
902-634-1100
INFORMATION:
THIS UNIT IS CURRENTLY AVAILABLE!
The L.E.Wambolt Building is a 1907 Registered Historic property by the
Canadian government (See Historic picture from 1909 with the original tin smith owner and staff.)
The building is one of the largest commercial structures in "downtown" Lunenburg.
This first-floor unit consists of 1,950 square feet with original high tin
ceilings and hardwood floors. This space is located at the actual Entrance to
the Lunenburg Historic District.
112-118 Lincoln Street is valued as an example of commercial
architecture in Old Town Lunenburg and as an integral addition to the
Lincoln Street street-scape. Built-in 1907, this building was first owned
by Lemuel Wambolt, a Lunenburg tinsmith who had developed a large
clientele on the south shore of Nova Scotia over the previous twenty
years. It has been used for a variety of businesses since that time,
including a general store and a dry cleaner. The building retains many
original features, including large storefront windows, the doors on the
Lincoln Street façade, and the larger service doors on Pelham Street.
How Long for Testosterone Boosters to Work?
One common question that arises is how long it takes for these supplements to work. The truth is, the timing can vary from person to person depending on various factors such as age, overall health, and individual metabolism. While there is no fixed timeline, consistent use of testosterone boosters over a few weeks may yield noticeable results.
The time it takes for testosterone boosters to work varies from person to person.
Each individual's body reacts differently to supplements, and the same applies to testosterone boosters. Some people may start experiencing positive effects within a few days, while others might need a couple of weeks or even longer before noticing any changes. It's important not to compare your progress with others as everyone's journey is unique.
Consistent use of testosterone boosters over a few weeks may yield noticeable results.
Patience is key. These supplements are not magic pills that provide instant results overnight. It often takes time for the ingredients in the booster to build up in your system and start making an impact on your hormone levels check over here timesofisrael.
To maximize the effectiveness of testosterone boosters, it's crucial to follow the recommended dosage consistently over several weeks without skipping doses. By doing so, you allow your body enough time to adjust and respond positively to the supplement.
Patience is key as it may take some time before experiencing the full effects of testosterone boosters.
While you may start noticing some improvements after a few weeks of consistent use, it's essential to understand that achieving optimal results with testosterone boosters requires patience and perseverance.
It's worth emphasizing that natural supplements like testosterone boosters work in harmony with your body's natural processes rather than providing an immediate artificial surge in hormone levels. Therefore, allowing sufficient time for the boosters to work their magic is crucial.
Impact on blood sugar levels by GlucoTrust ingredients
The carefully selected ingredients in GlucoTrust have a direct impact on blood sugar levels, helping to maintain them within a healthy range.
Stabilizing Blood Sugar Spikes: Banaba leaf extract and cinnamon extract work together to regulate post-meal blood sugar spikes. They assist in slowing down the breakdown of carbohydrates into simple sugars, preventing rapid glucose absorption and subsequent surges in blood sugar levels check my blog https://www.ndtv.com/.
Improved Insulin Function: Alpha-lipoic acid supports optimal insulin function by reducing oxidative stress and improving insulin sensitivity. This can lead to more efficient uptake of glucose by cells and better overall glycemic control.
Role of individual ingredients in promoting overall health
GlucoTrust not only focuses on managing blood sugar but also promotes overall health with its unique blend of ingredients.
Antioxidant Protection: Alpha-lipoic acid acts as a powerful antioxidant, neutralizing harmful free radicals that can damage cells and contribute to various health issues beyond blood sugar management.
Customer Reviews on GlucoTrust Ingredients
Positive feedback from users about the effectiveness of GlucoTrust ingredients:
Customers who have tried GlucoTrust are raving about its effectiveness. Numerous reviews highlight how the carefully selected ingredients in this supplement have positively impacted their health. One user, Sarah, shared her experience, stating that after incorporating GlucoTrust into her daily routine, she noticed a significant improvement in her blood sugar levels. She was thrilled to find a natural solution that actually worked.
Testimonials highlighting the benefits experienced with GlucoTrust ingredients:
GlucoTrust has garnered praise for the range of benefits it provides. Customers have reported experiencing increased energy levels, improved digestion, and better overall well-being after using this supplement regularly. John, a long-time user of GlucoTrust, mentioned in his testimonial how he no longer felt tired and sluggish throughout the day. He attributed this newfound energy to the powerful combination of ingredients found in GlucoTrust.
Real-life experiences shared by customers using GlucoTrust:
The real-life experiences shared by customers who have incorporated GlucoTrust into their daily routines serve as inspiring stories for those seeking an effective solution to support their health goals. Mary's story is one such example – she struggled with maintaining stable blood sugar levels for years until she discovered GlucoTrust. After just a few weeks of consistent use, she noticed remarkable improvements and now feels more confident in managing her condition.
User satisfaction with the quality and impact of the included ingredients:
Customers express high satisfaction with both the quality and impact of the ingredients included in GlucoTrust. The carefully chosen blend of natural substances ensures maximum efficacy while minimizing any potential side effects. Many reviewers appreciate that these ingredients are backed by scientific research and have been proven to support healthy blood sugar levels. The confidence users feel when taking GlucoTrust is evident in their positive reviews.
The interior retains its pressed tin ceilings that were installed by
Wambolt in 1907, and are in excellent condition.
The building derives its unusual shape from the acute angle at the
lot's west end where Pelham and Lincoln Street meet. This can be seen from the aerial
picture. The builder made use of this angle and the steep slope to put in a full
blind bay at this end of the building, where Wambolt's business sign was originally
placed. This intersection is a major crossroads in Lunenburg, and
112-118 Lincoln Street acts as an introduction to the Lincoln and Pelham
Streets commercial district.
DATASHEET:
IMAGES: